Hermetic Art Party
Madison Greenstone (clarinets and objects)
Anthony Vine (guitar and objects)
Katy Gilmore (light projections)


Images courtesy of Katy Gilmore

Hermetic Art Party 1: April 22, 2018
Hermetic Art Party 1: Excerpts

Hermetic Art Party 2: May 3, 2018
Hermetic Art Party 2: performed at the Outhaus

Hermetic Art Party 3: performed at the Outhaus

Hermetic Art Party 4: February 2, 2019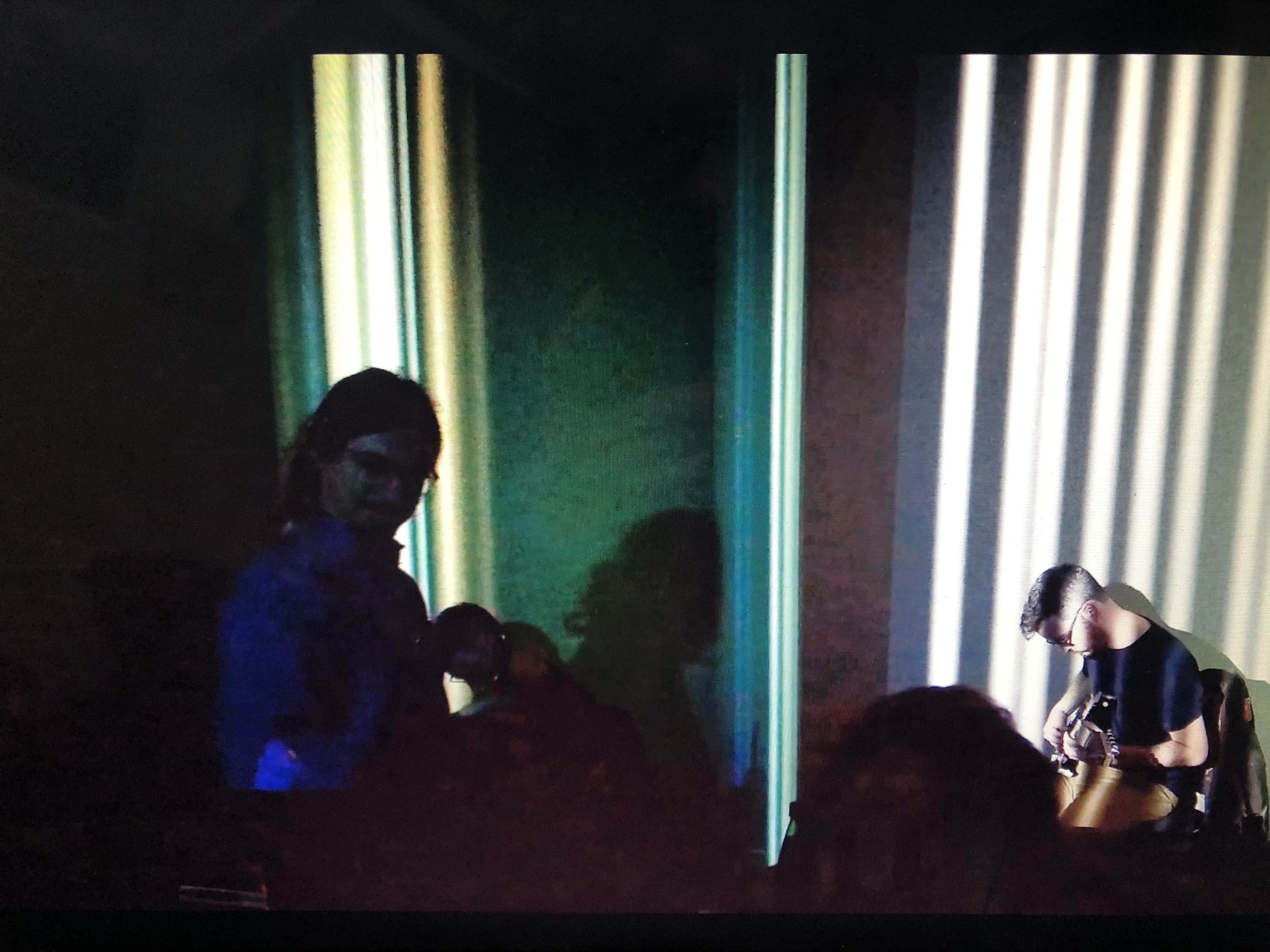 Performance History:
April 9 2019 | Hermetic Art Space (Warren Lecture Hall 2136) | Hermetic Art Festival presents Hermetic Art Party: No. 4

November 2018 | The Outhaus, LA | Hermetic Art Party 2 and 3

April 2018 | Hermetic Art Space (Warren Lecture Hall 2136) | Hermetic Art Party 1: 1.5 hour version

November 2017 | University Art Gallery | HAP 1: 3-hour version
Artists' Statement:

Hermetic Art Party Artists' Statement
The creative process of Hermetic Art Party necessitates extended workshops in which musical material is honed in a process of spectral and timbral reflection between the guitar and the clarinet- both tuning in to the sonorous qualities of the other's respective instrument. Pitch material is developed based on certain inherent acoustic qualities of each instrument, which is then reflected on and honed by the other. The forms Hermetic Art Party creates are process-based and elegant in their simplicity- derived from simple contours or shapes like wedges, grids, or descents. Often multiple forms are overlaid between the clarinet and guitar, giving rise to surprising frictions, alignments and correspondences. The creative process of developing sounding natures can be seen as a mutual attenuation between the clarinet and the guitar to the latent acoustic sounding qualities of the other instrument, which create a striking and haunting blend between the sounding sources. The decision making is governed in part by visual and verbal scores, which do not prescribe pre-formed events or absolute sounds, but rather act as sieves that demarcate the contours of traversal. Special attenuation of attention is given to the way acoustical energy emanating from the instruments enlivens the latent qualities of the architecture. Resonance, resultant tones, interference patterns, and other residue from sound production cease to be peripheral, becoming vivid, palpable material.
As an experimental research practice, Hermetic Art Party encompasses sundry other projects that blend the academic with the creative. These involve writing about their work in relation to their musical and artistic forebears, exemplified in the Hermetic Art Zine, and in an indefinite series of footnotes chronicling the collective evolution of this intellectual history. More speculative research projects, like Bazetta University and the Ocean Beach Society for the Advancement of Brend-Based Awareness (OBSABA) interlocute with American Experimentalism-Era artistic practices (like Henry Flynt's concept of brend and indeterminacy, Pauline Oliveros's philosophy of tuning, the never-ending quality of the performances of La Monte Young's Theater of Eternal Music).
---
DAD
DAD is a performer-composer collective that came together in 2017 to engage in a year collaboration with composers in HGNM. The performers are Madison Greenstone (clarinets), T.J. Borden (cello), and Michael Matsuno (flutes). The composers are John Pax, Julio Zúñiga, Adi Snir, James Bean, and Timothy McCormack. The pieces created were performed in September 2018 at

Paine Hall at Harvard

, and subsequently peformed and recorded at UC San Diego in October 2018.



The premieres that came to fruition in this exchange were:


MAM
by Julio Zúñiga
for amplified flute, cello, clarinet and electronics


Two Songs
by John Pax
for bass flute, voice and cello


disposition: truncate, dispose
by Adi Snir
for prepared contrabass clarinet, prepared bass flute, and prepared cello


foldl (after foldr; before reduce (after foldl and foldr))
by James Bean
for Bb clarinet, flute, cello


---